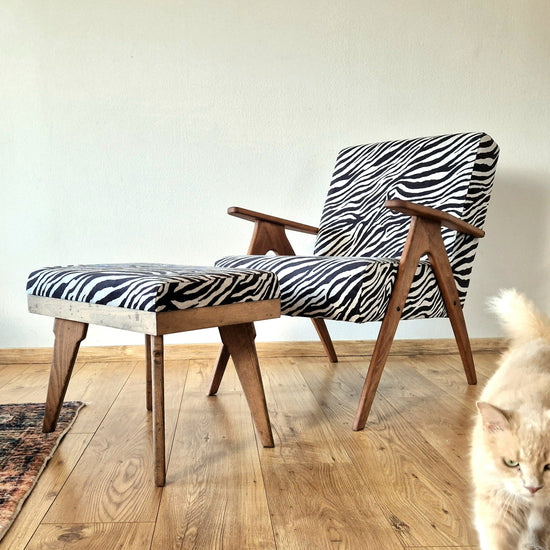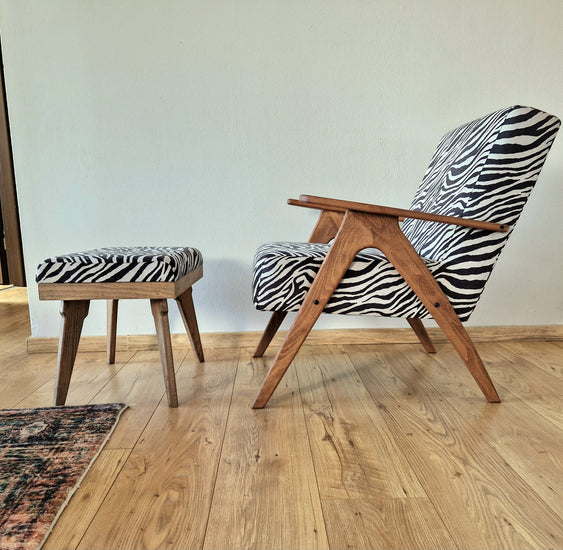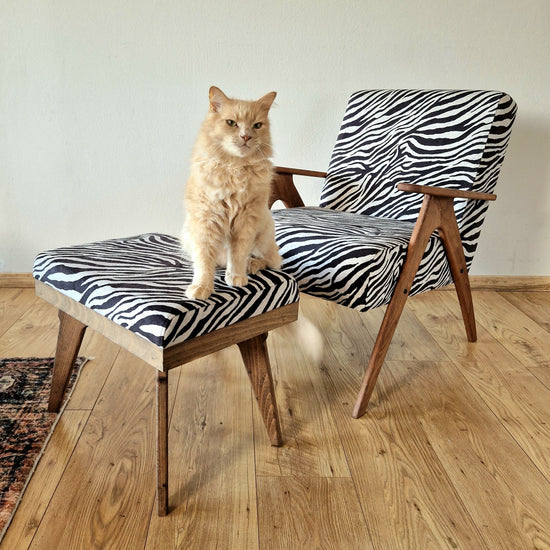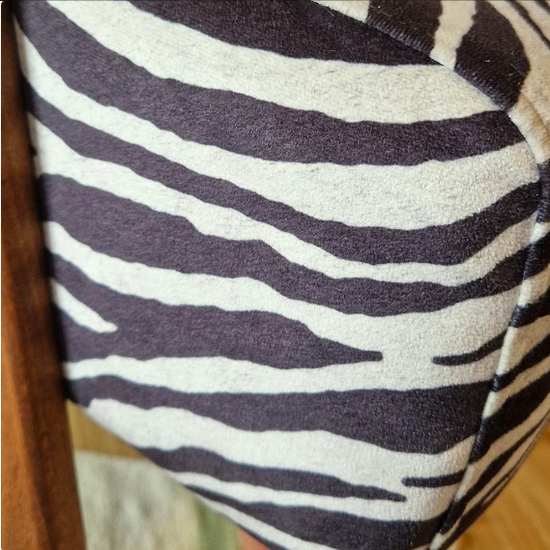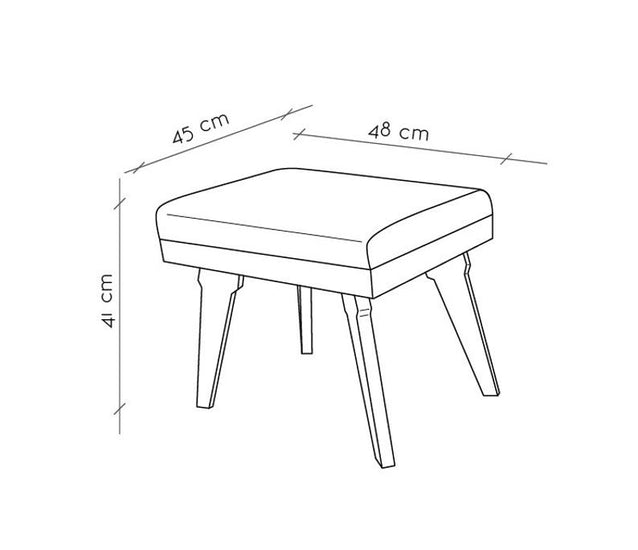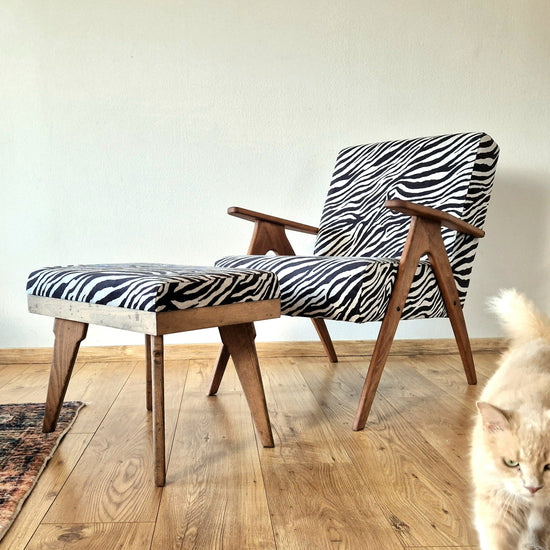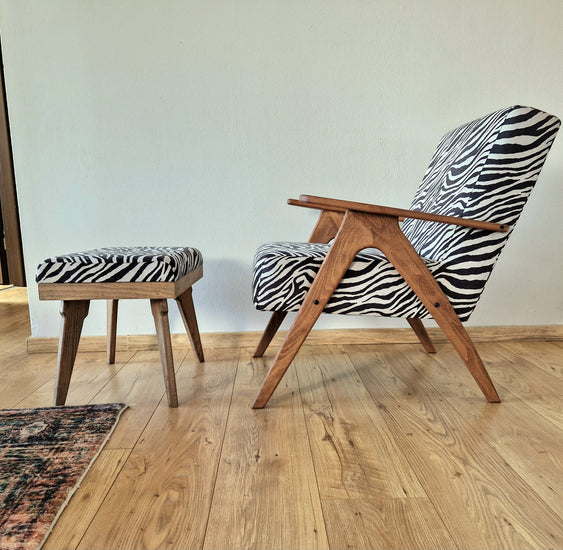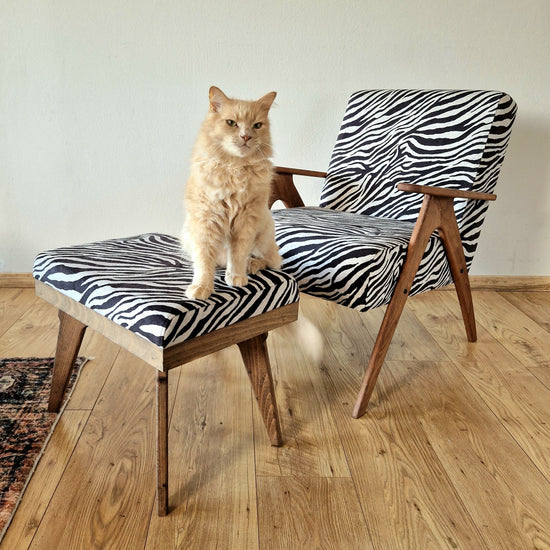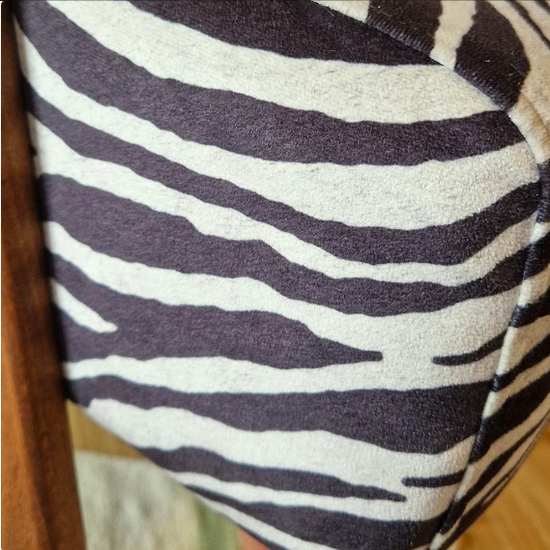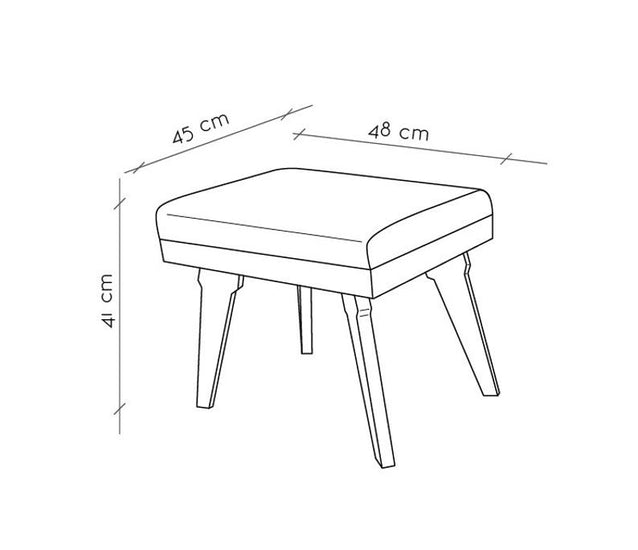 Set fotelja i tabure Zebra
SET RETRO FOTELJA I TABURE ZEBRA
Ako tražite unikatan komad namještaja Hrvatske proizvodnje, naša Retro fotelja i tabure set  je pravi izbor za vas! Uklapa se u gotovo svaki tip interijera i svojim jedinstvenim dizajnom ga diže na novu razinu 
O FOTELJI I TABUREU

Fotelja i tabure su tapecirani u tkaninu zebra. Uzorak materijala možete naručiti ovdje.
dimenzije (š x v x d) - 63 x 74 x 70 cm
ergonomski prilagođeno sjedište
ručna izrada
vodoodbojni materijali
Ručke su izrađene od masivnog drveta bukve te je ispuna je od poliuretanske spužve srednje mekoće i gustoće 35 kg/m3 čime se osigurava najveća kvaliteta i dugotrajnost.
ROK ISPORUKE 
Sve fotelje pažljivo izrađujemo po narudžbi, potrebno nam je 2 do 4 tjedna za izradu i 2 do 3 radna dana za dostavu po kontinentalnoj Hrvatskoj, a 3 do 5 radnih dana za otoke.
Garancija 24 mjeseca od kupnje
Povrat u roku 14 dana
Dostavljamo i po ostatku Europe, rok isporuke 3 do 6 radna dana izračun cijene prilikom checkouta.
ZAŠTO ODABRATI RETRO FOTELJU?
Naše retro fotelje nisu još jedan generički proizveden komad namještaja upitne kvalitete i porijekla, ponosimo se Hrvatskom proizvodnjom i ručnom izradom. Uz to  dizajnirane su da traju. To je razlog zašto izgledaju tako jedinstveno. Čekaju trenutak kada će postati dio vašeg doma i ispričati svoju priču! 
We ship across Europe
Return within 14 days
Delivery time 2 to 7 working days
Calculation of delivery price during checkout
Warranty 24 months from purchase